THE STORY OF
L'OSTERIA IL MORO
Let us tell you a story, a story which becomes more real every second, a story in which you can discover the joys of the scents and tastes of an unforgettable land. We founded our restaurant, Osteria Il Moro, in December 2016, based upon a clear and precise vision.
We wanted to offer a fine wine and dining experience with a unique identity, which would stand out in the field of gastronomy. It was from this point that the idea finally took shape, developing in every direction!
First of all, we took the traditional recipes of Trapani, which lie at the heart of each of our dishes. Where do these recipes come from? They spring from the exceptional natural ingredients of our region; in fact, they are the key to making our unique and original gourmet creations. Next, we focused all our efforts on another remarkable ingredient: the love for our island. This is our priceless secret ingredient, ideal for breathing life and soul into our dishes and, of course, into our restaurant.
And so, this is how our story began, and now, you too can be a part of it – a vivid journey in which you'll discover unforgettable tastes and flavors.
The Bandi Brothers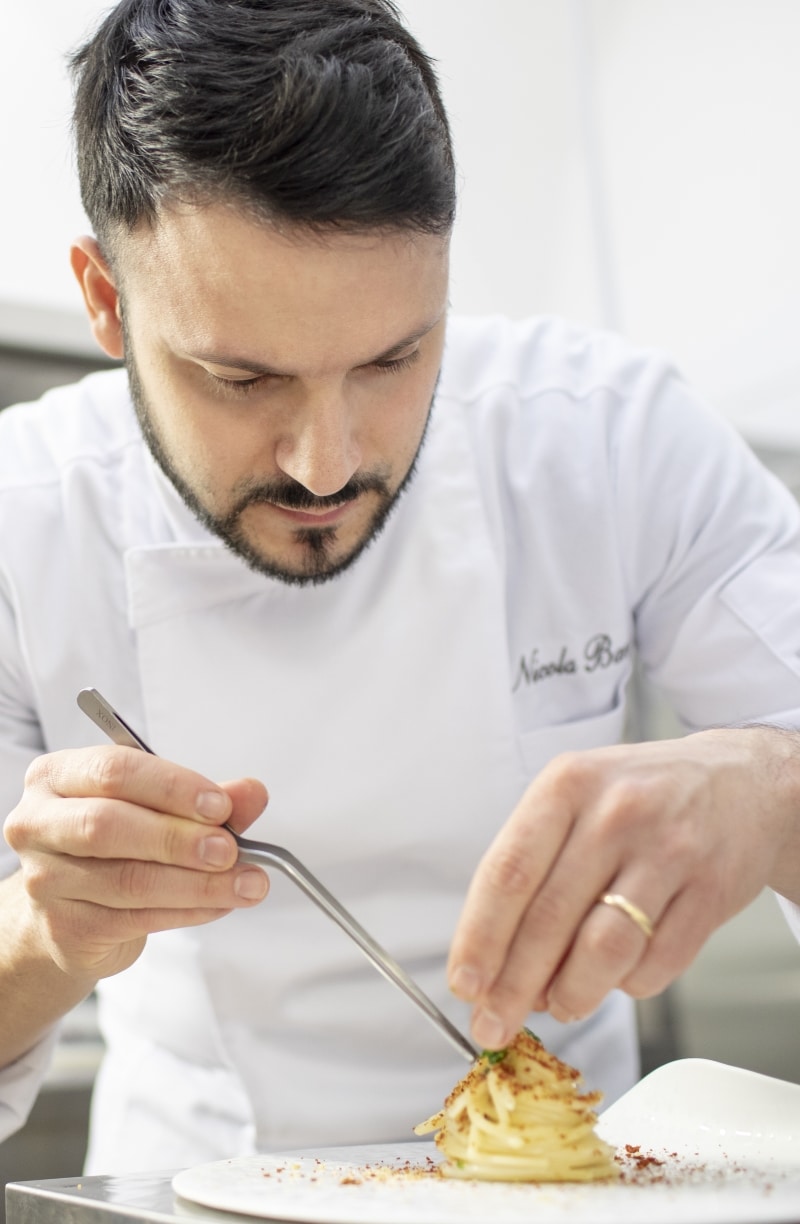 OUR CHEF

"I was only a child when I first started dreaming of becoming a chef, and even of opening my very own restaurant. Throughout the years that followed, I always worked tirelessly and with dedication, with passion and determination. I believe that this is the best way to achieve your goals. The next, most natural and instinctive step was to join forces with my brother Enzo, and then, finally, my dream became a reality!
However, I have to mention that I had two highly esteemed teachers: first of all, my grandmother, and then later, my mother. They passed down to me the time-honored tradition and original recipe for cùscusu (couscous), a secret which I jealously guard to this day. But this is just one piece of the puzzle!
Every single day, I'm learning from my mistakes and from my constant experimentation in order to hone my skills and reach new levels in my cooking. I'm always reinterpreting traditional recipes from Trapani, and try to combine the best local ingredients with carefully sourced elements from further afield. I take great care and go to great lengths to treat these ingredients with respect and always try to work with them using innovative culinary techniques.
My dishes emerge from this attentive approach. They are creations which I proudly describe as "simple", but which are nonetheless unique and original, and presented in a creative and refined manner."


THE CUISINE
AT OSTERIA IL MORO
In order to understand
our identity
­­, it's best to start with a simple question: what are the origins of our cuisine? The answer we're about to give you is equally simple and earnest. A
deep connection with the Sicilian land
is the indisputable starting point, the essence which feeds our passion for local cuisine. Over time, this connection has fused with a deep-seated respect for the authentic and traditional flavors without which we would find it impossible to work.
These are the values that guide our Chef and his experienced team, and which define our intrinsically simple and wholesome gourmet cuisine. It all begins with the careful selection of natural ingredients, sourced from slow food organizations and from high quality producers, both local and from further afield. We're keenly aware of the importance of finding the best raw ingredients, and we consider them vital to every part of our process.
In short, you could say that our dishes are a symbolic expression of "modern tradition". They narrate the history of our region, contemplating the present while remembering the past, without ever forgetting to innovate and move forward into the future.
SERVICE
AT OSTERIA
IL MORO
One of the most important elements of our working team, and to which we devote the highest level of attention, is without a doubt our
service
; this has been
shaped in particular by a formative period spent working for the Majestic group
. From the moment you cross the threshold of our restaurant, you'll realize something very important: we're a close-knit team and we love to take care of
every tiny detail.
Our guests' every request and every requirement is always accommodated.
We offer you our professionalism, our hospitality and our utmost discretion. And to this we always add a spark of creativity, which never goes amiss!
Because the most important thing to us is to offer you a unique dining experience, something to look back on over the years and recount to your friends and family. And what's more, our menu caters for all ages and the restaurant's locale is ideal for organizing events and gatherings, both work and personal.
All in all, you could say that our aims are not only connected to creating great food. We're working to create a powerful experience that draws on all the senses and tempts you back again and again!
IN THE HEART
OF THE HISTORIC CENTER AND JUST A FEW STEPS
FROM THE BOARDWALK
Osteria Il Moro
can be found in a friendly, accommodating and refined location, right in the
heart of the historic center of Trapani
.
It's also just a few steps away from the boardwalk.
For our own reasons, we've chosen to limit the number of indoor tables available. In fact, we only have
35 seats available inside
, and
30 seats al fresco
. A random choice? Not at all – for us, the most important thing is always to offer
the best level of service
, including on weekends and
national holidays.
At Osteria Il Moro, your experience consists of three elements:
The table: it's simple, but the attention is in the details; the table is set only with cutlery, following the order of the courses to come. By doing so, we can match the cutlery perfectly to the dishes and courses that you've chosen from our menu.
The tableware: this is selected with the utmost care, from the best and most innovative specialists. They provide the backdrop which best highlights and accentuates the traditional Trapani recipes.
Last but not least, the final element, the chairs: comfortable and comforting, allowing you to relax while you sample your lunch or your dinner.
These are the three foundational elements which we always bear in mind in order to ensure we offer the highest level of service.
Reservations can be made by phone or by email using the contact details provided, or by filling out the reservation form.
LUNCH
Monday to Sunday
12.30 pm – 3 pm (last orders)
DINNER
Monday to Sunday
7 pm – 11 pm (last orders)
Closed: Wednesday
(except during:
June – July – August – September)
RESERVE A TABLE
For more information on arranging special events, work parties, or any other questions about reservations, please don't hesitate to phone us or send us an email: info@osteriailmoro.it
Osteria il Moro


Fine
Dining
Restaurant
ADDRESS:
Via Garibaldi, 86
91100 Trapani (TP)
Historic center
PHONE
Email
Info@osteriailmoro.it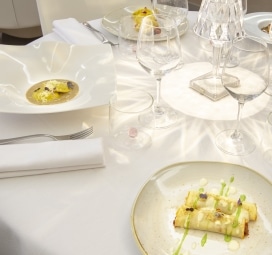 PRESS
Trying to find somewhere to eat in Trapani where you can discover the secrets of the town's traditional cuisine? We'd like to mention, with great honor and pride, that
Osteria Il Moro
has received much acclaim and recognition as the best fine dining
restaurant in the area.